Sculptor and Painter
Young British Artist, Conceptual Artist
Born 07/06/1965
Damien Hirst rose to fame in the 1990's as one of several acclaimed Young British Artists. Charles Saatchi, a prominent art collector, fuelled this rise with his endorsement. Hirst's ability to repulse and excite audiences was key to staying relevant in a conservative, media driven world. Pieces of art that included rotting animal corpses or a shark preserved in formaldehyde cemented Hirst in the art world's consciousness.
Hirst divided opinion from this point forward, whilst many would visit his shows due to the media uproar he could produce, art critics would fail to engage with his art and would question the value that had been placed on his work. Now recognised as the most financially successful living artist, his ability to create a thrilling show has continued through to today and many now have come to the view point that his ability to confound and upset is as salient as his actual artistic output.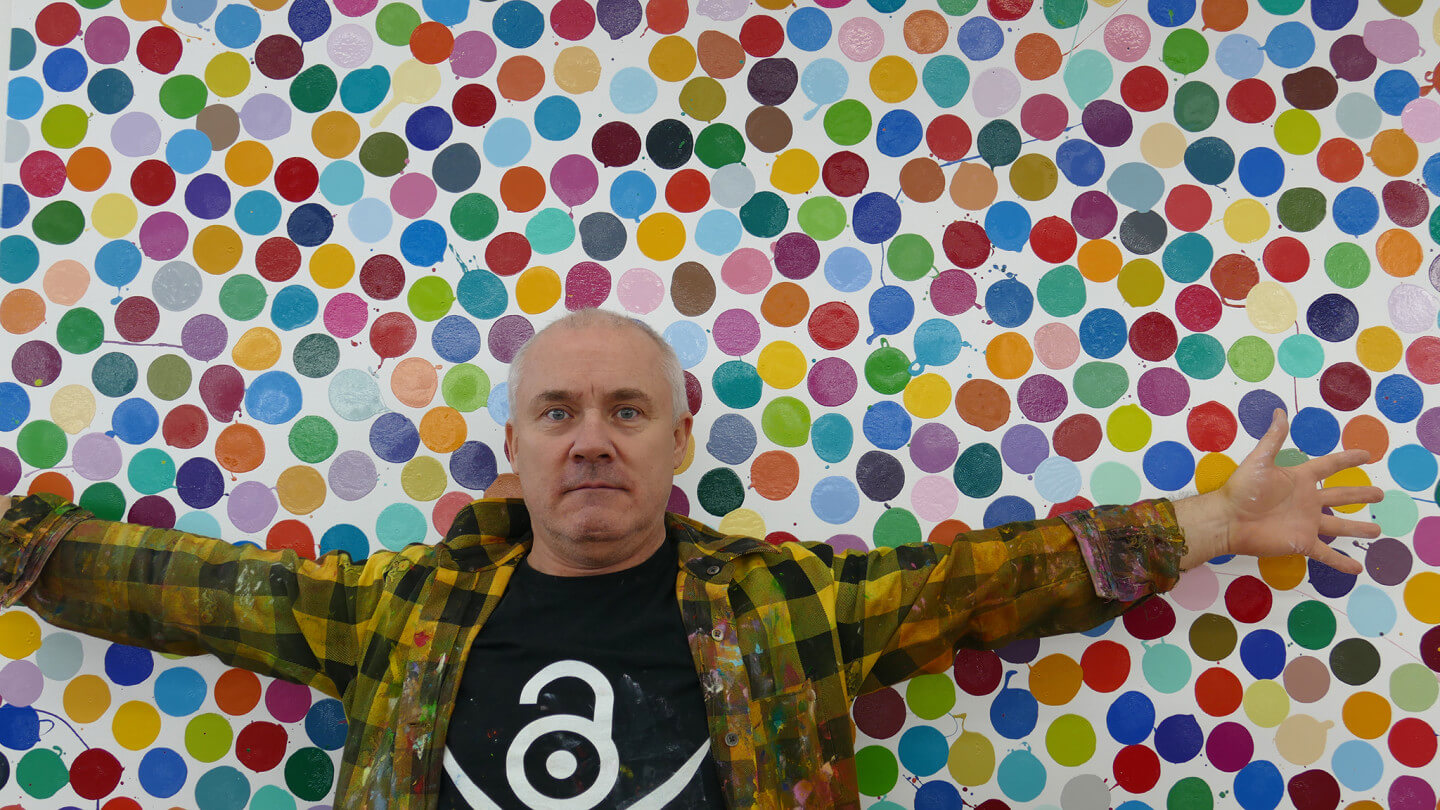 Hirst was born in Bristol in 1965, his catholic family moved to Leeds and in the late 1970's his parents separated. As a rebellious teenager he developed a love of punk music and enjoyed creating and making art. Pursuing a BA in Fine Art at Goldsmiths, University of London between 1986 and 1989, Hirst worked at a mortuary back in Leeds during his holidays. This would have a psychological effect on much of what he would explore in his later work.
Freeze, a group show organised by Hirst, was a major turning point. The combination of postmodern and unconventional approach to art coupled with, the eventual, sponsorship of Saatchi led to the coining of the term 'Young British Artist'.
Hirst won the Turner Prize in 1995. Mother and Child Divided saw what would become the iconic image of 1990's art, dissected animals immersed in formaldehyde. What followed was the elevation of Hirst and other YBA's to celebrity status, courting controversy and fame was part of the zeitgeist, a veneer of credibility during a time of excess.
By 2003 the business relationship between Saatchi and Hirst had come to an end due to disagreements over how work was being shown and used. Buying back early works for a considerable amount, Hirst was now at risk of seeming irrelevant. Always the master of generating divisive public spectacles, Hirst went onto making a bold statement to the art world. In 2008 he sold a complete show 'Beautiful Inside my Head Forever' at Sotheby's auction house for 70.5 million pounds. A record for any living artist.
Hirst has blurred the lines between art and business. Ideas and creation. Famous for not personally creating his own work. Rather, unapologetically, focussing on his ideas and personal brand. He has divided opinion, courted controversy and upset critics, but, perhaps most importantly, he has strived to push the boundary of what his audience perceive art to mean.